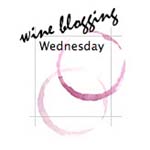 Today is
Wine Blogging Wednesday
, hosted by Tim Elliott of
Winecast
. For this 22nd edition, Tim asked us to choose a
lite (alcohol) red wine
, meaning
12.5% alcohol
or less. With this theme, Tim brings up an important issue: the rising alcohol levels in almost all the wines worldwide.
Alcohol is an essential component in wine. It is a powerful flavor extractor and it gives wine body and a sweet mouthfeel. However, if the alcohol content is too high, the wine can be out of balance, heady, and leave a hot, burning sensation in the mouth.
Drinking wines with high alcohol content can be an issue for wine lovers that want to moderate their alcohol intake. A 5-ounce glass of 9% German Riesling contains 0.45 ounces of ethanol. A similar serving of 14% California Chardonnay contains 0.7 ounces of ethanol. Moreover, pairing high alcoholic wines with food can be challenging as they easily clash with well-balanced dishes.
Now, the level of alcohol that is specified on the wine label may not be exactly what you think you're going to get. According to the
Epicurious Wine Dictionary
,
"for table wine, the United States requires a minimum alcohol level of 7 percent and a maximum of 14 percent. The label variance can be up to 1.5 percent. For example, a wine stating "Alcohol 12.5% By Volume" can legally range anywhere from 11 to 14 percent."
Many wines from Bordeaux can be found at 12.5%, although Bordeaux follows now the general upward trend and I have seen some 2002 wines that are already at 13%.
The
1999 Château Langoa Barton
was the wine with an alcohol level of 12.5% or less that we drank the most recently. We shared this bottle the other night with a good friend of ours that was visiting from Chicago.
Château Langoa Barton is a classified third growth from the Médoc commune of
Saint-Julien
. It is under the ownership of the Barton family who also owns the second growth Château Léoville Barton, also from Saint-Julien. Every year, I like to purchase some amount of these two châteaux. They are of reliable quality at a reasonable price — I only paid $25 for the 1999 Langoa Barton — and I really appreciate their elegance and classy style.
That night, the
1999 Château Langoa Barton
was perfectly ready to drink after some decanting. It was deeply colored with an appealing nose of blackcurrant liqueur and licorice. On the palate, it was full-bodied, well-balanced, with a rich mouthfeel and a stylish finish. The alcohol content was 12.5%, just perfect for WBW #22!
Now, to conclude on a poetic note, did you know that an eulogy of Château Langoa Barton had been written by a 19th century poet called Pierre Biarnez (
Wine-Journal.com
)?
"Admire you this Château with its style correct
There, facing the park, with its grandiose aspect?
This is a third growth, which a hand most attentive
Lovingly looks after with care most preventive;
And so, with such prudence, the fruit's never lost
Sincerest and bestwine that ever there wast!
Ah! If all such great wines had a similar master,
The glory of Médoc would shine with more luster."
And thanks again Tim for hosting this
22nd edition of Wine Blogging Wednesday!
Technorati tags:
wine
food & drink
wine blogging wednesday
wbw
wbw22