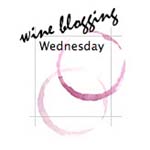 Bar-B-Que Wines
is the theme for the 23rd edition of
Wine Blogging Wednesday
and Vivi at
Vivi's Wine Journal
is hosting. She asked us to
fire up the grill, choose a wine, look at it, sniff it, taste it, drink and then write something about it
before Wednesday July 5th. I'll be on vacation next week &mdash hiking in the
Glacier National Park
— so here is my contribution, a little bit ahead of time.
Choosing
which wine to talk about for this WBW was actually a challenge because we have been
firing up the grill
almost every day since the beginning of the warm season and drank many different wines with our barbecued food. But then, last weekend, we made this delicious grilled shrimp recipe with
Moroccan Charmoula sauce
.
While the shrimp were grilling, I opened a bottle of
2003 Viña Sila Rueda Naiades
, a 100%
Verdejo
wine. Considered to be the finest white variety in Spain, Verdejo is a native grape of
Rueda
, a wine region located in central Spain, northwest of Madrid, along the Duero river. Thanks to its sandy and chalky soils, Rueda can produce aromatic Verdejo wines of great minerality and body.
We
looked at
the wine: it exhibited a bright color with a pretty golden hue. We
sniffed
it: the nose was fragrant with floral and stone fruit aromas. We
tasted
it: it was full-bodied with a rich texture, almost like a Chardonnay but more aromatic. We
drank
it: it stood up to the spicy sauce very well. I made a note to buy more Rueda in the future.
Another great theme for WBW, thanks Vivi! And see you in 10 days or so!
Technorati tags:
wine
food & drink
wine blogging wednesday
wbw
wbw23