The third session of my
Wines of Germany and Eastern Europe class
with
Derrick Schneider
was dedicated to the wines of
Austria
. Although Austria is a wine producing country that may not be as well known as Germany, it makes world class dry white wines, mostly from
Riesling
and
Grüner Veltliner
. Grüner Veltliner is Austria's most widely planted grape variety — ten times more widely planted than Riesling — and thanks to its food friendliness and versatility, it is increasingly gaining the attention that it deserves.
Most of the high quality dry Grüner Veltliners and Rieslings come from
Kremstal
,
Kamptal
, and
Wachau
, three appellations located in Lower Austria — or Niederösterreich —, northwest of Vienna.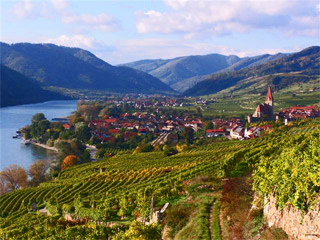 Terraced vineyards in the Wachau
Kremstal
is named for the town of Krems, one of the oldest wine town in Austria. East of the Wachau and its steep terraced vineyards, Kremstal is where the Danube valley suddenly opens up into an open plain with gently rolling hills. The main wine producing towns are Göttweig, Furth, Gedersdorf, Rohrendorf, and Senftenberg.
The wines we tasted:
•
2005 Berger Grüner Veltliner
:
Weingut Berger
is an estate of 18 hectares in the town of Gedersdorf, 7km east of Krems. Half of the production is dedicated to Grüner Veltliner but the winery also produces wines from Riesling, Welschriesling, and the red Zweigelt grape variety. My notes: this is their entry wine, bottled in a one liter sized bottle. Straw color with a greenish tinge, nicely aromatic on the nose, dry, medium-bodied on the palate with notes of mineral. A good value wine.
•
2005 Salomon Undhof Grüner Veltliner Hochterrassen
: located in Stein on the western border of Krems,
Salomon Undhof
is one of the most progressive and quality driven wineries in Austria. The family owns 20 hectares of vineyards, half planted with Grüner Veltliner, half with Riesling. My notes: straw color with a green tinge, subdued nose, more fruity than floral, mineral on the palate.
•
2002 Malat Dreigärten Grüner Veltliner Reserve
:
Weingut Malat
is a 30 hectares estate located in the town of Palt. This wine comes from the best grapes from three different vineyards (
drei gärten
or
three gardens
). My notes: deep golden color, pear, peach, honey on the nose, almost a Riesling nose. On the palate, rich, smoky, crisp, with notes of grapefruit on the finish. Very distinctive.
•
2003 Buchegger Pfarrweingarten Grüner Veltliner
:
Weingut Buchegger
is a rising estate of 8 hectares in the town of Gedersdorf. My notes: deep golden color, perfume and talcum powder on the nose, grassy on the palate with a vivid acidity.
•
2004 Nigl Privat Grüner Veltliner
:
Weingut Nigl
is an estate of 25 hectares in the Krems valley. My notes: light yellow color, intense, aromatic nose of fresh white peach, on the palate, rich and mineral with a long citrus finish. With the Malat, this was my favorite wine from the Kremstal.
•
2004 Türk Grüner Veltliner Vom Urgestein
:
Weingut Türk
has 14 hectares in the town of Stratzing. This wine is a blend of two vineyards, the Ried Wachtberg and Alte Haide, with vines averaging 50 years of age. My notes: pale yellow color, citrusy nose, crisp palate, medium finish.
The
Kamptal
takes its name from the river Kamp, a 153km long river that flows into the Danube near Grafenwörth, east of Krems. Vineyards are spread around Langenlois, Austria's largest wine town. Soils are mostly loess, a fine-grained, densely compacted glacial dust, and loam, while higher vineyards are distinguished by weathered rock subsoils, which is ideal for Grüner Veltliner.
The wines we tasted:
•
2004 Thomas Leithner Loess Grüner Veltliner
:
Weingut Thomas Leithner
is an estate of 10 hectares in Langenlois with a well established reputation in Austria. It makes spicy Grüner Veltliners that are grown on loess rich vineyards. My notes: straw color with green tints, perfumed nose, fat mouthfeel with a vivid acidity on the palate, medium finish.
•
2002 Thomas Leithner Privat Grüner Veltliner
: The Privat is a selection of the best grapes from the estate's best parcels. My notes: deep golden color, expressive and aromatic nose, rich aromas of tropical fruits, lengthy finish. Delicious!
•
2005 Schloss Gobelsburg GobelsBurger Grüner Veltliner
: founded in 1171,
Weingut Schloss Gobelsburg
is the region's oldest winery. Owned by a Cistercian monastery, it was also run by the monks themselves until 1995.
Qui bon vin boit Dieu voit
(who drinks good wine sees god) is the winery's motto. My notes: golden color, citrusy nose, a lot of acidity on the palate. By itself, it seems slightly unbalanced and may need some additional cellaring time but right now, it should be very good with shellfish.
•
2003 Schloss Gobelsburg Grüner Veltliner Renner
: this wine is made from grapes growing on the hills, on soils dominated by gneiss. My notes: deep golden color, notes of mushroom and petrol on the nose, soft on the palate with mineral and smoked apple aromas, burnt sugar on the finish. Should be a great accompaniment to Peking Roast Duck.
•
2004 Bründlmayer Grüner Veltliner Ried Lamm
: with 60 hectares of vineyards scattered around the town of Langenlois,
Weingut Bründlmayer
is one of the most important Austrian estate. The
Ried Lamm
vineyard is a particularly warm spot on loess soils that is located between two large hilly vineyards, the Heiligenstein and Gaisberg. My notes: golden color, citrusy nose, well balanced on the palate, great mouthfeel, classy finish. One of my favorite wines from Kamptal with the Thomas Leithner Privat.
The
Wachau
is a 30km/18 miles stretch of the Danube Valley between the towns of Melk and Krems, where the river is lined with steeply terraced vineyards. This region is one of Europe's most beautiful river landscapes and have been declared a World Heritage site. It is also considered Austria's finest wine region. The Wachau has a regional association called
Vinea Wachau Nobilis Districtus
that closely monitors the quality of the wines and has created three levels of classification:
Steinfeder
(less than 10.9% alcohol, light and racy),
Federspiel
(less than 11.9% alcohol, elegant and with body), and
Smaragd
(above 12% alcohol, highly ripe and powerful).
The wine we tasted:
•
2004 Sighardt Donabaum S. Dona Weißburgunder Bruck
: the
Sighardt Donabaum
estate is located in the village of Spitz, one of the region's main wine community. Just above the village there is a round low hill covered with terraced vineyards, which is called Tausendeimerberg, the
1000-Bucket's Mountain
. It is said that in good years this hill could yield 1000 barrels of wine. My notes: a Pinot Blanc with a golden color, sweet white blossom aromas on the nose, and butterscotch flavors on the palate.
Unfortunately, I could not attend the fourth session dedicated to the other regions of Austria, so coming next: the wines of Hungary
Related stories:
•
Wines of Germany and Eastern Europe class: Rheingau, Mosel-Saar-Ruwer, and Mittelrhein
•
Wines of Germany and Eastern Europe class: Nahe, Rheinhessen, and Pfalz
Technorati tags:
wine
food & drink