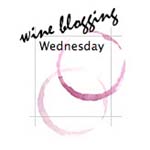 I can't believe we're already in March and today is
Wine Blogging Wednesday
. This month, the event is hosted by Jathan at
Wine Expression
, and the theme is
When in Rhone
.
I love the rich flavors of the Syrah-based and Grenache-based wines whether they come from the Rhône Valley, Spain, California or Australia. But what about the lesser known varietals that also thrive in the Rhône Valley and other wine regions with a similar climate? What about Counoise for example?
Counoise
is one of the thirteen authorized grape varieties of
Châteauneuf-du-Pape
. Although rarely used nowadays, it was well established in the Rhône Valley in the late 19th century. At that time, Joseph Ducos, who was the owner of
Château La Nerthe
and the first French grower to import rootstock to overcome the phylloxera epidemic, had selected Counoise as one of the ten grape varieties that he would grow in his vineyard, because of
"its personality, charm, freshness, and bouquet"
. The origin of the grape is unknown but the Provencal poet
Frédéric Mistral
, who was also an accomplished gourmet, claimed that
"the Counoise grape variety was a gift from Spain to Pope Urbain V"
.
Today,
Château de Beaucastel
is one of the rare domains that use Counoise for its Châteauneuf-du-Pape wine. It typically includes 10% of Counoise to the blend to add peppery notes and lively acidity. In 1990,
Tablas Creek Vineyard
imported some Counoise cuttings from Château de Beaucastel and the winery started planting the varietal in the Paso Robles Hills. Since 1999, Counoise usually comprises 5-10% of Tablas Creek's Esprit de Beaucastel.
Counoise is a blending component allowed in most of the South of France appellations but it is almost never used on its own. So how can we identify the true flavor of Counoise?
Fortunately, I was able to find two 100% Counoise wines at my local
K&L Wine Merchants
store. One of them was the
2003 Domaine Monpertuis Vignoble de la Ramière Cuvée Counoise
.
Paul Jeune
, owner of Domaine Monpertuis, produces wines in red and white color in the Châteauneuf-du-Pape appellation. He also makes this Vin de Pays du Gard from a small parcel of vines that he recently acquired in the Gard region, just across the Rhône River from Châteauneuf. The vineyard, called Vignoble de la Ramière, is planted with Counoise and Grenache. This wine is a 100% Counoise cuvée. It had a deep garnet-red color and a discreet nose of pepper and black fruits. On the palate, it was rich, spicy and mouthfilling with a lively acidity on the finish.
The other wine was the
2003 Côtes du Rhône-Villages Sablet Domaine de Piaugier Ténébi
. Domaine de Piaugier is, according to Robert Parker,
the emerging star of Sablet
. Jean-Marc Autran, the domaine owner, discovered Counoise while visiting Beaucastel:
"In 1990, I visited Beaucastel and I tasted their Counoise in barrels and I thought that was extraordinary and since I had some planted and had time to kill. In 1991, I decided to bottle the Ténébi and it turned out even better than I thought it would"
. The wine had a dark garnet color and a intense nose of red and black fruits. On the palate, it was dense and peppery with pruny flavors, followed by a long finish.
The two wines were very good indeed although I preferred the Domaine Monpertuis because it was softer and more food-friendly.
So would now be the time for Counoise to get out of obscurity?.
Technorati tags:
wine
food & drink
wine blogging wednesday
wbw
wbw19