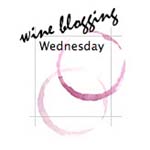 This month's theme of
Wine Blogging Wednesday
is
wine shops that feel the love
and
Dr. Vino
is hosting. That's a very interesting theme and I feel very lucky to have in my area so many awesome wine shops that I could talk about. For this post, I chose to visit
Weimax Wines & Spirits
, a small wine shop with a tasting room located in Burlingame, California.
I should go to this place more often. I am always happy with the wines I buy there, often recommended by Gerald, the shop owner. Sometimes, I can even taste a wine before buying it if it is available in the tasting room. I often check the store's
website
, regularly updated with tasting notes, pictures, and detailed information about the producers. And I like the fact that each wine you buy has a tasting note printed on the receipt.
On the day of my visit, I was first disappointed to see that Gerald was not present. But assuming that anybody that works for him should be knowledgeable, I confidently asked the staff person on duty at that time for a good wine value.
"That's a very hard question!"
he replied,
"All the wines are good here. The owner tastes them all.""But do you have one in particular that you could recommend?"
I continued.
"That's impossible to say. All these wines are so different. It really depends on what you like."
he replied, pointing to a wall crammed with wine racks and boxes.
I was not ready to concede defeat.
"What about something you drank recently, that you really enjoyed?"
I insisted.
Then he took me to the other side of the shop and handed me a bottle of 2004 Morgon Vieilles Vignes from a producer called Raymond Bouland.
"This is really good."
he said,
"People have been mistaking this wine for a Burgundy."
It had been ages since I drank any Beaujolais! This was an opportunity to get reacquainted with that region. I did not know the producer but
Morgon
was a respectable appellation and the price ($12.99) was very attractive. So I bought the wine. On the receipt, I found Gerald's tasting note:
"The 2004 vintage is outstanding in Beaujolais. Bouland's Morgon is an excellent red. Lots of delicious fruit. Best lightly chilled."
This sounded very promising. But how could I judge whether this nice man's recommendation was truly reliable? I had to taste the wine. The
2004 Morgon Vieilles Vignes Domaine Raymond Bouland
had a deep garnet color with a fruity nose of plums and cherries. On the palate, it was medium-bodied with a firm structure and some earthiness on the finish. And no sign of these awful banana or bubble gum flavors that are too often found in Beaujolais wines these days. The staff at Weimax was right. The wine was very good, best lightly chilled of course.
Technorati tags:
wine
food & drink
wine blogging wednesday
wbw
wbw18