Do you think that wine blogs have a growing influence on the wine community? Tom Wark from
Wark Communication
and the
Fermentation blog
believes so:
"The Wine Blog is one of these new information sources that people are paying attention to on a daily basis and using to shape their worldview. And their numbers are growing as well as their influence."
he told a group of wine professionals in a presentation entitled
Blogs, Wine Blogs and Communication
.
Michael De Loach
, head of sales & marketing at
Hook & Ladder winery
, agrees:
"Our family has been in the wine industry for more than 30 years. In that time we've seen lots of changes. When the growth in personal websites and wine blogs was pointed out to me, I was amazed and heartened. It appears that technology has helped ferment a renaissance in wine publishing. I couldn't be happier. It is exactly what this industry needs."
And therefore, he sent me and other wine bloggers a sample of his 2005 The Tillerman White so that we could talk about it on our blogs.
The owner and winemaker of Hook & Ladder is Michael's father,
Cecil De Loach
. He is a former San Francisco firefighter and the winery was named to honor this 16-year career:
Hook & Ladder
is another name for a fire truck. Before launching the winery in 2004, he was also known as the founder and winemaker of
De Loach Vineyards
, pioneering the
Russian River Valley
as one of California's premier grape-growing regions since the mid 70's.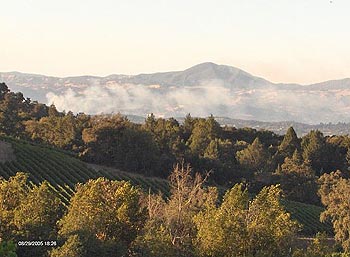 The Russian River Valley
I was pleased to read on the winery
website
that Cecil and his wife Christine De Loach were both very committed to keeping the Russian River Valley environmentally sound. They have implemented a number of environmentally friendly actions such as creating an oak tree nursery, placing barn owl boxes and raptor perches to promote natural predator-prey relationships, and conserving water.
The winery grows many different grapes from various parts of the Russian River Valley, including Chardonnay, Gewürztraminer, Pinot Noir, Zinfandel Cabernet Sauvignon, Cabernet Franc, Merlot, Sangiovese, Syrah, Petite Sirah, Grenache, and Mourvèdre. Two blends are produced, a red and a white, which are both named
The Tillerman
. This is another reference to Cecil De Loach's firefighter job: because a fire truck needs two steering wheels, there are two drivers; one is in the front, and one, called
the tillerman
, is in the back.
According to the
winemaker notes
, the
2005 Hook & Ladder The Tillerman White
is a proprietary blend of three estate varietals. It is made using a 100% stainless steel/cold fermentation technique to get a fruit-forward, crisp, expressive wine. The winemaker would not disclose the exact composition of the blend because it will eventually change over time in order to create a
consistent flavor profile
.
While I felt honored to have been asked to review this wine sample, I have to confess that I was slightly anxious when I opened the bottle. What if I didn't like the wine? Would I still be able to talk about it? I poured a little of the wine in my glass and quickly felt relieved. The wine had an attractive light straw color and an aromatic nose of ripe apple, pear, and white peach. On the palate, it was dry, round, with a refreshing vivacity. I also detected some honey and light spices on the finish. Overall, I found the wine thoroughly pleasant and perfect for a relaxed sipping. Try it with a appetizer of lavosh bread, hummus, and olives.
As for the blend, I agree with
Tim Elliott from Winecast
who also reviewed the wine: Chardonnay and Gewürztraminer, the two estate white grapes, must be part of the blend. And the third varietal? The obvious choice would be the aromatic Viognier but the grape might be too golden to match the light color of the blend. My other guess is Pinot Gris, a superb cool climate grape that has recently gained in popularity in the Russian River Valley.
Technorati tags:
wine
food & drink