You may think that Daube Provençale, a hearty beef stew cooked in red wine, is not the right food to eat when it is warm and summery outside. But in fact, a lighter version of the dish exists that is delicious even in summer. It uses white wine instead of red wine and is equally good served hot, warm or cold. So, it happens that the other day, I felt like making a summer daube.
Any full-bodied red wine, although not overly tannic, would work well with the dish. So that day, while making the daube, I felt like having a
Bandol
.
Was the first bottle of Bandol sold in this country imported by Berkeley's Wine Merchant
Kermit Lynch
? Hard to know but Kermit Lynch was certainly influential in introducing this unique Provençal wine to Americans. Who has not been inspired by the vivid accounts of his friendship with the Peyraud family of Domaine Tempier and by the mouthwatering descriptions of Lucien Peyraud's wines and Lulu Peyraud's recipes?
The
Bandol appellation
lies between Marseilles and Toulon on the hillside of a natural amphitheater facing the Mediterranean sea. Its unique terroir is characterized by arid and well-drained limestone soils, the dryness of the soil being fortunately balanced by the humidity of the air coming from the sea and by some occasional rainfalls. It is the only region where the use of
Mourvèdre
is required in red wines: by law, the red wine of Bandol must contain at least 50% Mourvèdre, although many quality-oriented producers use more than this.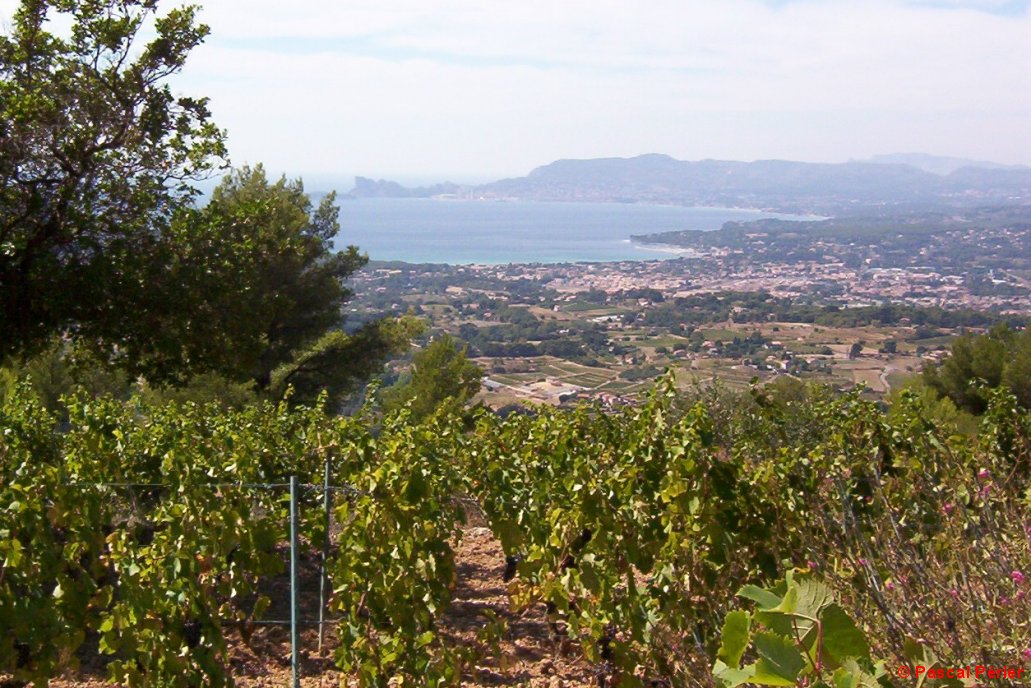 Maison des Vins de Bandol
The origin of
Mourvèdre
must be Spanish and the varietal is better known as Monastrell in Spain. It is believed that the grape moved to France some 400 years ago and was then planted in Languedoc, Roussillon and Provence. It is a late ripening and demanding grape but it thrives in sandy, rocky soils and in sunny and hot sites tempered by sea breezes. Mourvèdre is recognized for adding backbone and aromatic complexity to blended wines.
To accompany the daube, I chose a
2001 Bandol Domaine de la Bastide Blanche
, a blend of Mourvèdre, Grenache and Cincault. The wine had a dark purple color and a gamey, spicy nose with notes of black fruits. On the palate, it was full-bodied and opulent with a mouthfilling texture and a long finish. What a wonderful wine, elegant and wild at the same time! And without boasting too much, the daube was delicious too!
Summer daube, serves 4
2 pounds cubed stew beef or short ribs
1 large onion, chopped
3 cloves garlic, crushed
2 carrots, sliced
2 stalks celery, sliced
6 potatoes, quartered
1 cup dry white wine
1 strip of orange peel
1/2 cup black olives
2 tablespoons tomato paste
1 tablespoon olive oil
1 cup vegetable broth
1 tablespoon flour
1 bay leaf
1 tablespoon herbs of Provence
salt, pepper
fresh flat-leaf parsley, chopped
Preheat oven to 300.
In a heavy dutch oven, heat olive oil over medium heat.
Add beef and saute. Season beef with salt, pepper, and herbs.
Dust beef with flour. When nicely brown on all sides, transfer meat to plate.
Add onion and garlic. Cook until softened.
Deglaze with wine, scraping pan to loosen browned bits.
Add tomato paste, bay leaf, carrots, celery, orange peel, and beef.
Add broth to cover the meat.
Cover and bake at 300° for 3 hours.
An hour before the end, add the potatoes and black olives.
Serve topped with chopped parsley and with a good red wine.
This was
Wine Blogging Wednesday #21
and
Is My Blog Burning #26
, co-hosted this month by Lenn over at
Lenndevours
and Alberto at
Il Forno
. The theme was
Fabulous Favorites Festival
, a wine and food pairing exercise where cooks become sommeliers and wine lovers become cooks: cook your favorite dish and pick a wine that goes with it or pick your favorite wine and cook a dish that goes with it. Maybe more work than usual but a lot more fun!
Technorati tags:
wine
food & drink
wine blogging wednesday
wbw
wbw21
is my blog burning
imbb
imbb26